The first Rallye Rally was held in Great Britain at Popham airfield. The Y2K event was organized by Pete Snipe - who also founded the Rallye Virtual Owners Club.
Since the event looked like a lot of fun, Rallye pilots in the US decided to organize their own Rallye Rally in 2001. Lanny Tonning sent letters to all the Rallye owners who could be found through a search of US registrations.
Eight planes managed to meet very nearly in the geographic center of the US at Grain Valley, Missouri on June 9th and 10th. Many other Rallyes had last-minute scheduling impacts. Sixteen Rallyes had indicated a strong interest in coming to the Grain Valley Rally.
The 2001 Rallye Rally pilots are: Jerry Berger, Kansas City, MO - N347RA; Lanny Tonning, Albuquerque, NM - N60BF; Ron Brown, Virginia Beach, VA - N336RA; Barry and Brent Brown, Covington, KY - N343RA; Marvin McGraw, Knoxville, TN N306RA; Don Miles, Columbia, NO - N150ST; Eldy Beresford, Huntley, IL - N346RA; Don Hughes, Lake Conchas, NM - Koliber 99A. Also present sans airplane was Carlos Reyes, Rio Piedras, Puerto Rico - N325RA.
Click here for news from Grain Valley's Gazette.
Here are a few photos of the various Rallyes at Grain Valley.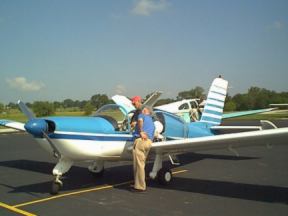 Jerry Berger and Ron Brown check out Jerry's Rallye N347RA. Jerry's plane is hangared at 3GV.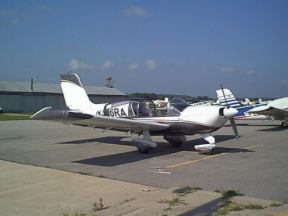 Marvin McGraw's spotless Rallye 235 N306RA is hangared on an island in the Tennessee River near Knoxville, Tennessee.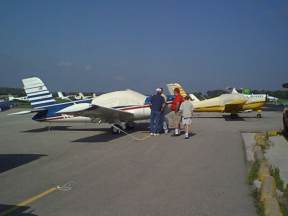 The Brown Air Force: Ron's Rallye 235 N336RA, based in Virginia Beach, Virginia and Barry & Brent Brown's N343RA, based in Kentucky, just across the river from Cincinnati, Ohio.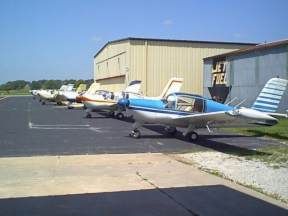 Tall Tails lined up at 3GV. Photo was taken just before number eight landed.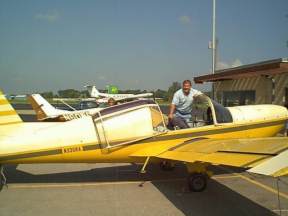 Brent Brown and N343RA.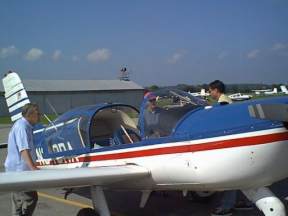 Ron Brown explains the storm tracking system that helps him avoid bad clouds in N336RA.